CURRENT PRAYER PRIORITIES:
Updated 3/03/20
MISSIONARIES:
Kent and Staci Hulbert National Youth Alive Missionaries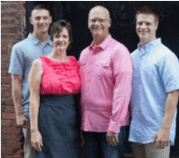 They were appointed National Campus Missionary Coordinators in 2008. With over 25 years of youth ministry in reaching young people with Jesus Christ, they are passionate about reaching this generation with the Gospel of Jesus Christ. In their missionary role, they connect with over 40,000 students nation-wide. They have two sons, Grant and Garrett.
http://www.hulbertmissions.com/Kent_Hulbert/About_Us.html
PRAYER REQUESTS:
Christian students to capture a vision for God to work & share the Gospel to their generation
Favor with churches, Pastors and Youth Alive Missionaries to work with school administration and staff
God to raise up additional missionaries
Against the strongholds on this generation: suicide, drugs/alcohol, break-up of the family unit, etc.
PERSECUTED CHRISTIANS:
On Jan. 21, Christie Peter Mwankon, 26, was kidnapped in the middle of the night by Fulani Islamic militants.
Pastor Lawan Andimi was kidnapped and murdered after the Islamist group Boko Haram released a video showing him declare his trust in God regardless of the consequences.
A group of Christian university students were kidnapped by Islamic State West Africa Province terrorists outside Maiduguri on Jan. 9. The terrorists took video of one student's execution, while the others remain missing.
LET US PRAY AS IF THIS WAS OUR OWN PERSECUTION!!